New direction for Salt Farm Foundation
Salt Farm Foundation was initiated by Marc Van Rijsselberghe in 2016 in order to share knowledge of saline agriculture and the solutions it has to offer to small-scale farmers worldwide. This knowledge and solutions for farmers were developed through Marc's various initiatives through his different commercial and R&D organizations which now fall under the Saline-Farming group.
Since March 2019, Marc van Rijsselberghe has stepped down from his involvement with Saline-Farming Group in order to Focus more on Salt Farm Foundation.
In the coming years, he will continue to take his innovative work forward in the field of sustainable agriculture through his leadership at Salt Farm Foundation. With over 15 years of expertise, Salt Farm Foundation will focus on developing more open-source knowledge to share with small-scale farmers.

Our foundation will take on an important role in positioning saline agriculture on the global agenda as one of the most important solutions for climate adaptation.
Currently, there are two projects that are being undertaken and there are more projects in the pipeline at Salt Farm Foundation. You can find more information below.
Salt Farm Foundation is committed to helping to reduce world hunger and poverty by sharing its knowledge and solutions. If you want to work together with us or if you would like to have more information about our work, please send us an email to info@saltfarmfoundation.com.
Upcoming projects
SalFar is a project co-funded by the North Sea Region Programme 2014 – 2020 which has set out to develop innovative methods of coastal agriculture across the North Sea Region by setting up field labs in each partnering country. In the field labs a multidisciplinary team consisting of climate experts, researchers, educators, farmers, entrepreneurs and policymakers, do scientific research on the salt tolerance of various crops, demonstrating alternative methods of farming under saline conditions and creating new business opportunities for farmers, food producers, and entrepreneurs. There are 14 partners from Norway, Sweden, Denmark, The Netherlands, Germany, Belgium and the United Kingdom respectively.
Knowledge Centre – Saline agriculture worldwide
The Knowledge Centre on Saline Agriculture was established in 2018 by the Salt Farm Foundation, with the support of the Ministry of Agriculture, Nature and Food Quality. Setting up this international Knowledge Centre on Saline agriculture supports the aim of the Dutch Ministry - to increase global food security and improve water management- through the export of Dutch knowledge and technology.
To create awareness of saline agriculture on a global level, we provide information on saline agriculture and how to perform soil analysis in different languages in our knowledge centre.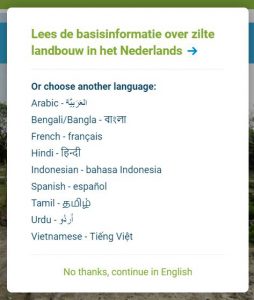 In the pipeline
Salt Farm Foundation is actively working together with the Dutch ministry of agriculture, Nature and Food quality and various organizations based on Bonaire to set up a knowledge centre to teach saline agriculture methods to Bonaire farmers. You can read about our recent field visit here.
Salt Farm Foundation will work together with Waddengoud to develop innovative regional products and a system of innovation that can be applied to other islands and coastal regions around the world. This will provide a new economic opportunity to a lot of coastal communities whose livelihood depends on going into the sea during dangerous climatic conditions or the off-season.